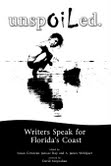 The new anthology "UnspOILed: Writers Speak for Florida's Coast" will be released in central Florida with a reception, sale and signing at Maya Books & Music in Sanford's historic downtown on Thursday, July 8 from 6 to 8:30 p.m.
Author Bill Belleville of Sanford will be at the event, along with author Dawn Evans Radford, who lives in Franklin County. Both will sign books and be available to chat about the project.
Some 38 writers, scientists and poets contributed to the anthology from around Florida and the Southeast. The book was initially intended to argue against plans by oil lobbyists and state legislators to eliminate the long-standing ban protecting the nearshore waters of the Gulf of Mexico from drilling. But in a horrifying coincidence, the BP disaster took place just as the book was coming off the press.
Susan Cerulean, a Tallahassee writer and one of the anthology's editors, said: "When we began this project last fall, the thought of the Gulf Coast being ruined in our lifetime was only a distant nightmare. Now, just as our project comes to fruition, we are heartbroken, terrified and furious."  The anthology is published by the Red Hills Writers Project. The contributions, including the art and design, were donated by the writers and artists. The anthology was co-edited by author Janisse Ray, and Dr. A. James Wohlpart, a professor of environmental literature at Florida Gulf Coast's University.
Throughout the summer, "Unspoiled: Writers Speak for Florida's Coast" will continue to debut at a series of events from Apalachicola to Ft. Myers, as Floridians rally over the catastrophic spill in the western Gulf.  Other well-known contributors include Diane Roberts, Connie May Fowler, Jeff Klinkenberg, and Jan DeBlieu.
The event at Maya Books takes place during Sanford's monthly "Alive After Five" street celebration. Maya Books & Music, 201 E. First St., Sanford, FL 32771. Tel. 407.321.6504.
 For more info on the book: www.UnspoiledBook.com