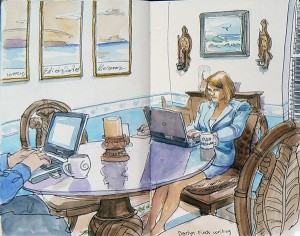 Since 2002, Scribbles has helped you keep up with the literary landscape in Central Florida. We've celebrated your successes, attended your readings and book signings, and learned the craft of writing together at conferences, on campuses, and in workshops.
Now I need your advice.
My debut novel, Sewing Holes, will be released by Twisted Road Publications in 2015. And what I need to know from my loyal friends and Scribblers is: What is the one avenue you recommend to spread the word about the book and get it into the hands of the largest amount of readers?
Is it your favorite bookstore, library, high school or college reading series? Does your local tea or coffee shop or bar hold a spoken word night? Is there an award you think we should apply for? Are you a member of a book club? Are you a blogger who welcomes guest bloggers? Do you have a connection to a newspaper, magazine, radio or television program that interviews authors? Are you willing to read the book and post a review? Do you have a mailing list or set of social media contacts you wouldn't mind sharing news about Sewing Holes with? Do you want to buy and donate millions of copies to the charity of your choice?
My email is scribbler.finch@gmail.com   I would love to hear your ideas, and will appreciate any advice you offer.
Thanks so much,
Darlyn Finch Kuhn, Scribbler