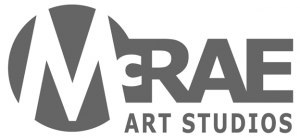 Photographer Ellie Diez-Massaro has rejoined McRae Art Studios as a resident artist, and painter Barbara Perrotti has been selected as a visiting artist at the studio complex, which is located in Winter Park.
Diez-Massaro, a longtime resident of Winter Park and Maitland, was an artist at McRae for several years after its founding in 1987. When a space at the artist collective recently became available, she expressed her interest in returning and was welcomed back.
Diez-Massaro creates vibrant hand-painted black-and-white photographs of landscapes that evoke other-worldly dreamscapes and convey a sense of solitude and tranquility. She creates photographs using infrared film and a 6×7 Pentax camera and then hand paints them with transparent oil, Caran D'ache oil crayons and colored pencils, a tradition dating to the 19th century.
Diez-Massaro attended Visual Studies Workshop in Rochester, N.Y., and received an A.S. degree in photography from the Southeast School for Photographic Studies in Daytona Beach, Fla. Her art has won numerous awards and is in private and corporate collections throughout the United States. She regularly exhibits her work in juried fine art festivals across the country.
Perrotti is completing a six-month stay at McRae as a Visiting Artist until Dec. 31. The Visiting Artist Program gives selected local, national or international artists a chance to be part of the McRae artist community for several months to stimulate new ideas among member artists.
Perrotti, who is proficient in oil, pastel and acrylic, says she likes to establish abstract rhythms in her painting. "That is when I can feel the music begin," she says. "As I push toward reality, my thoughts are focused on consistency of stroke, simplicity of impression and my love of painting."
Perrotti takes part in invitational plein air events and appeared in the first issue of Plein Air magazine. She is listed in Who's Who in American Art. She studied at the Paier College of Art in Hamden, Conn., and has taken workshops taught by Robert Brackman, Lois Griffel, Morgan Samuel Price and Burt Silverman.
MCRAE ART STUDIOS, a collective of 21 independent artists founded in 1987, was established to allow member artists to work and mingle and to attract community attention to the area's outstanding talent. McRae maintains the highest level of artistic accomplishment by bringing artists into the collective by a jury process. It has been home to many nationally recognized artists. Twice a year, McRae hosts Open Houses that attract as many as 2,000 visitors and collectors. For more information: mcraeartstudios.com.