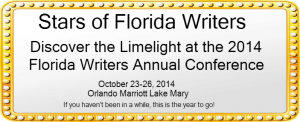 Writing is a journey best shared with others. We all need help along the way—be it with a contrary muse, pesky editing, or getting publishing. The motto of the Florida Writers Association is Writers Helping Writers, and they take it seriously!
The 2014 Florida Writers Annual Conference will take place on October 23 – 26, 2014 at the:
Orlando Marriott – Lake Mary
1501 International Parkway
Lake Mary, FL 32746
407.995.1100
Register online here!
Download the schedule of workshops here!