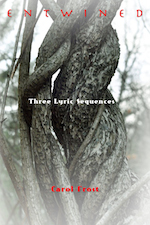 Carol Frost's latest, Entwined: Three Lyric Sequences, just came out from Tupelo Press.
A statement about the book comes from Classics and Literature Professor, critic, translator, editor, and poet Reginald Gibbons – "With her characteristic passionate impersonality, Carol Frost has written, over the years, this great book.  A wonder-worker with words, she creates in each poem the most persuasive immersion in a tangible reality and at the same time she articulates in the most surprising ways some of the ultimate ideas and questions of existence.  Her language itself seems palpable, and her thinking about human life, her acknowledgment of what we are all really like, is fearless. 'No more pretty songs,' she writes in one poem.  No.  Instead, beautiful ones that teach and compel and exhilarate the reader's imagination and spirit.  We should carry this book everywhere with us."
Frost has several upcoming appearances for Entwined. Four cities in Montana next week, September 16 – 20: Billings (Montana State University) Livingston (Elk River Books) Helena (Lewis and Clark Library) and Missoula (Shakespeare and Co. Books).  A joint reading with Dick Frost in Oneonta, N. Y., October 1, at Hartwick College. (His new book Mephisto's Flea Song will be out September 24, 2014 (Marick Press).)
She'll also read and sign books November 15 at the Vero Beach Book Center.