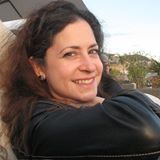 The Art and History Museums in Maitland is the site of a triple-header "Function on Friday" September 26th at 8 p.m. (doors at 7:30).
From Facebook:
Poet and journalist Ilyse Kusnetz is the author of Small Hours, winner of the 2014 T.S. Eliot prize from Truman State University Press, and The Gravity of Falling (2006). She earned her M.A. in Creative Writing from Syracuse University and her Ph.D. in Feminist and Postcolonial British Literature from the University of Edinburgh. Her poetry has appeared in Crab Orchard Review, the Cincinnati Review, Crazyhorse, Stone Canoe, Rattle, and other journals and anthologies. She has published numerous reviews and essays about contemporary American and Scottish poetry, both in the United States and abroad. She teaches at Valencia College and lives in Orlando with her husband, the poet and memoirist Brian Turner.
Ashley Inguanta is a writer/photographer who is driven by landscape, place. Ashley is the Art Director of SmokeLong Quarterly, and her first collection, The Way Home, is out with Dancing Girl Press (and has been re-published for Kindle with The Writing Disorder). She has translated the collection into a live performance, too, with dancing and music. This year, her poem "San Andreas Fault," which appears in The Ampersand Review, was nominated for the Pushcart Prize. Her new collection of poetry and photographs, For The Woman Alone, just came out with Ampersand Books.
Annemarie Ní Churreáin is a poet from the North-West of Ireland. Her writing has been published widely in Ireland and abroad. Some of the major publications in which her poems have appeared are: Poetry Ireland Review, The London Magazine, The Morning Star Newspaper and The Chattahoochee Review. In 2012 Annemarie was named New Young Broadsheet Poet by Agenda Magazine (UK). In 2013, she was selected to read as part of the Emerging Writers Series at the Cork Spring Poetry Festival/Ireland, and as part of the Poetry Ireland Introductions Series at the Irish Writers Centre. Annemarie is a 2011 graduate of The Oscar Wilde Centre, Trinity College Dublin. She has been granted residencies at The Tyrone Guthrie Centre, Monaghan/ Ireland, The Heinrich Böll Cottage, Achill/Ireland and the Cill Rialaig Arts Centre Kerry/Ireland. Annemarie was a 2014 Literature Fellow at Akademie Schloss Solitude, Stuttgart/Germany.
ABOUT THE SERIES
Functionally Literate is Burrow Press' quarterly-ish reading series that aims to connect, entertain, and possibly intoxicate, Orlando's community of writers, bookworms, lit nerds, and the intellectually curious. Each Function pairs the best writers in Central Florida with visiting writers from all over the world. Past Functions have hosted a slew of talented visitors, including Chicago writer Lindsay Hunter, Brooklyn-based poet Monica Wendel, and the award-winning Portuguese novelist Jacinto Lucas Pires. The series has been recognized in Orlando Weekly's Best of Orlando Awards, and most recently launched a literary variety show on 91.5 WPRK.