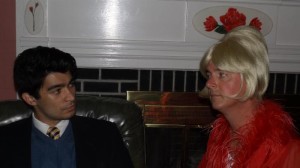 The Playwrights' Roundtable invites you to join them for the 5th Annual JOHN GORING MEMORIAL ONE-ACT SERIES, presented by PRT at the Lowndes Shakespeare Center!
This exciting collection of all-new plays by member playwrights includes:
ENTREE GOLD by John Minigan Directed by Chuck Dent, featuring Russell Trahan and Sean Kerrigan Peter. Sent by his school's headmaster to give seemingly-incapacitated fellow teacher Leverett a ride home from Montreal, quickly learns that his friend has a very different plan in mind.
FROM FEAR TO ETERNITY by Tony Pelham Directed by Buddy Fales, featuring Noel Gates and Blake Holland.  A couple experience a fatal automobile accident, and wake up to find themselves seated as passengers on a bus. But where is it taking them? And which afterlife destination are they REALLY in?
MAN'S BEST FRIEND by Rod McFadden Directed by Gary Norris, featuring Terri Schmidt, Pete Rougeaux and Rockie Kobrin. When Jane visits her elderly parents, she discovers that her father has acquired a dog. An invisible dog. But all is not what it seems.
The JOHN GORING MEMORIAL ONE-ACT SERIES continues November 14 and 15 at 8pm, and on November 16 at 3pm, in the Santos Dantin Studio Theatre at the John and Rita Lowndes Shakespeare Center (812 E. Rollins Street, Orlando).
TICKETS: Cash or credit at the door – $15 general admission, $12 for seniors 65+, students with ID, and PRT members. Pre-sale tickets online at OrlandoAtPlay. Reservations available at (407) 761-2683.
About the playwrights:
John Minigan (Entrée Gold) : John's Elliot Norton and Weissberger Award nominated Breaking the Shakespeare Code world-premiered in Chicago and at the NY International Fringe Festival in 2014. He has had work developed and workshopped at the New American Playwrights Project and the Orlando Shakespeare Theater, and selected for the Samuel French Best of Off-Off-Broadway Festival, SoBe Arts, the Boston Theatre Marathon, the Snowdance Comedy Festival, City Theatre Miami's Summer Shorts and Boston Play Café. His short plays have won the KNOCK International Play Competition, New York's 8-Minute Madness Festival and the Rover Dramawerks. His longer one-acts were winners in the Nantucket Short Play Contest in 2014 and the Firehouse Theater New Works Contest in 2010 and 2012. He is a finalist for the 2014 Heideman Award at the Actors Theatre of Louisville.
Tony Pelham (From Fear to Eternity): Tony is a software engineer, writer, and playwright who hopes to complement his logical world view with writings that evoke warmth, humor and humanity (though not necessarily in that order.) He is grateful to the Orlando PRT board and officers, including Kristen, Al, David, and Chuck, and to the play's talented director and cast, Buddy, Noel and Blake, for bringing "From Fear to Eternity" to life (or death, as it were.)
Rod McFadden (Man's Best Friend): Rod McFadden began writing plays in 2009. He has received awards in national playwriting competitions for his plays, Love Birds, Counting on Love, and Getting the Message, and was chosen for the People's Choice award at the 2012 inspiraTO Festival in Toronto. In addition to successful productions at theatres near his home in the San Francisco area, Rod's plays have been seen at dozens of theatres around the country, including four times previously with PRT ("Prosperity," "The Test of The Touchstone," Lost and Phoned, and "Extra Cherries"). Rod serves on the Board of Directors for the Playwrights Center of SF, as well as teaches in the masters program at the Academy of Art University in San Francisco.