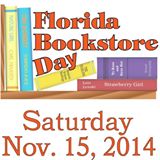 On Saturday, November 15, 2014, in conjunction with Florida Bookstore Day's statewide celebration of Florida writers and independent bookstores,  Bookmark It is excited to deliver a FREE day-long program featuring nationally published Central Florida authors, along with three creative writing workshops, to their popular East End Market location.
Every hour from 10am to 4pm, a different author will take the Courtyard stage for a casual reading, Q&A session and book signing opportunity.   In addition, three 2-hour workshops will be offered to those wanting to tap into (or perfect) their creative writing skills.
Event information:
Date:                     Saturday, November 15, 2014
Location:              East End Market – Courtyard Stage
2301 Corrine Drive, Orlando, FL 32803
Time:                     10am-4pm
Cost:                      Presenting Authors FREE, Workshops range $FREE-$30 pre-registration
required/limited to 8 attendees each
Presenter Schedule:
10am-11am
Ethan Long, Childrens
Award winning author/illustrator of Chamelia and Scribbles the Cat series and creator of Disney's Channel's animated show: Tasty Time with Zefronk.
11am -noon
Geoff & Janet Benge, Biography (readers 10-up)
Co-authors of 68 biographies of famous historical figures, with over 3 million copies sold worldwide.  Their latest book, Triumph- the Extraordinary Life of Louis Zamparini, is timed perfectly to engage young readers prior to the Christmas Day release of Unbroken, a movie of his life directed by Angelina Jolie.
Noon-1pm
Jessica Martinez – YA Fiction
Nationally published author of 4 YA novels (Kiss Kill Vanish, The Space Between Us, The Vow, and Virtuosity) Jessica is also a  classically trained violinist and mother of three energetic young children.
1pm -2 pm
David James Poissant – Fiction/Short Story
Award winning essay and story writer whose debut short story collection, The Heaven of Animals, has garnered national attention.  His second book, a novel, is due out this spring.
2pm-3 pm
Lynn Waddell – Nonfiction
National Book of the Year (bronze- travel essays ) winner for "Fringe Florida: Travels Among Mud Boggers, Furries, Ufologists, Nudists and Other Lovers of Unconventional Lifestyles."
3pm -3:30pm
Annemarie Ni Churreain – Poetry
Ireland-based Ni Churreain is an internationally published writer of poetry visiting Central Florida for three months as The Kerouac Project's current writer in residence.
3:30-4:00 pm
J. Bradley – Poetry
J. Bradley is a Best of the Net and Pushcart Prize-nominated writer whose work has appeared in numerous literary journals.  His most recent book, The Bones of Us, is a unique graphic poetry collection.
Workshop Schedule:
10am – noon       Dina Mack / Destination Journal                $30 including material
During this journaling workshop you will be encouraged to be curious, take in the setting — micro or macro, use all or one of your senses, be beautifully imperfect, explore a thought or idea, and experiment with materials.
It's called "Destination Journal" because the location is the source for inspiration. Created by artist and writer, Dina Mack, DJ is for all levels of art experience.
12:30pm -2:30pm             Raquel Henry / NaNoWriMo: Keeping the Momentum  FREE
Writing a novel during the month of November? Tell us about your progress! In this Writer's Atelier workshop, Writer and Editor, Racquel Henry will share tips on how to finish strong. We'll discuss:
How to schedule writing time
How to generate ideas and combat writer's block
Staying motivated
What to do when you WIN
3pm – 5pm          Jennie Jarvis / Crafting the Character Arc                              $30 includes book
Many writers think that, just because they have their basic structure in place, their stories are destined to succeed. The problem with many narratives can often come in those places between the plot points. Ensuring that the story is moving forward in every scene often comes in the shape of the character arc.
This craft seminar will give writers a tangible guide for creating a goal-driven story that never drags its feet!