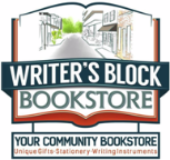 Check out all the wonderful events at the Writers Block Bookstore Thursday – Monday THIS WEEK!
TODAY, from 3-5 p.m., meet Sandra Gail Lambert and pick up your signed copy of The River's Memory.
TONIGHT from 5:30 – 8:30 p.m., enjoy the Poetry Open House with Wine Tasting and enjoy 10% off all items all day.
TOMORROW, Friday, December 12th, meet Stephen D. Woody, author of Serpentine Fire, and take 20% off all science fiction books.
Saturday, December 13th, from 2 -4 p.m. meet Terri Clements-Dean, PhD and pick up Traveling Stories: Lessons from the Journey of Life, and come back from 5 – 8 p.m. to  meet Stuart Omans, PhD, author of Ol' Man on a Mountain.
Then on Monday, December 15th, meet Anna Yates Burst and buy her book The View fro the Widows Walk.