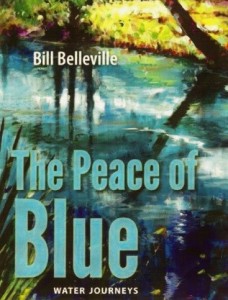 Join award-winning nature writer Bill Belleville as he shows compelling images and reads excerpts from his latest book, "The Peace of Blue: Water Journeys"— a collection of first-person stories that take place near, atop, or under water.
According to Carl Hiaasen, Bill Belleville "writes gorgeously and straight from the heart." In The Peace of Blue", the author guides you on a lyrical journey to natural places in Florida and the Caribbean that have been shaped by water in some way. He poetically affirms the vitality of this most essential substance in our lives by showing the many ways in which water-driven landscapes nurture plants, wildlife—and the human spirit.
Wednesday, January 28, 2015
Galloway Room, Mill's Building
7p.m. – 8:30 p.m.
Belleville has written seven books of creative non-fiction—including the award-winning "River of Lakes" and "Losing It All to Sprawl". He's also contributed to nine national anthologies, and authored over 1,000 articles and essays for publications. He's traveled widely overseas for the Discovery Channel and scripted radio documentaries for NPR and video docs for PBS. He's currently co-producing and scripting a film for PBS on Florida's springs. (More information: www.BillBelleville.com )
For more information on this event, please contact: Ann Francis (AFrancis@Rollins.edu)