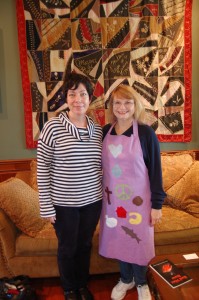 Megan Paquette, book lover, artist, art conservator, and curator of the art gallery at Seminole State College, showed up at my door today with her version of Honey's memory apron from Sewing Holes.
Her hand-stitched aprons are beautifully crafted and sold at art shows, so she had to work extra hard to make this one look like a school-kid's clumsy first attempt.  When I saw "a wrinkled scrap of cool cotton fabric, robin's egg blue and light as a butterfly's wing … lightly stained," I couldn't believe how perfect it was.
Megan can be reached at maiblue3@gmail.com.