Author of 'Why I Walk: The Shift to a Walking and Biking Culture' to speak at FREE community presentation January 14, 2015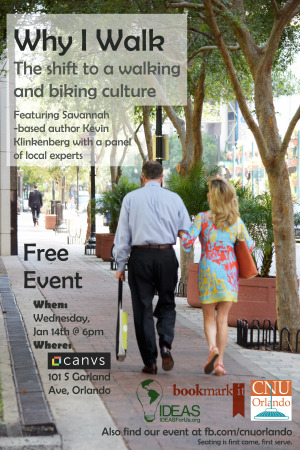 Looking for a better way to get around? Trying to explain to your friends why you think walking is the best way to get from here to there or why you chose to live downtown?
On Wednesday, January 14 from 6-8:00 pm join Kevin Klinkenberg, Executive Director of the Savannh Development and Renewal Authority and author of "Why I Walk: The Shift to a Walking and Biking Culture," and an invited guest panel for a FREE event discussing walkable neighborhoods and their financial, social, and physical advantages at Downtown's co-working space, Canvs.
Why I Walk is a personal story of the benefits of living in a walkable neighborhood. In the book Kevin describes the benefits in four discrete categories: Financial, Freedom, Health and Social. This event is hosted by CNU Orlando and local non-profit  IDEAS For Us with the generous support of CNU Florida and Canvs. Bookmark It will be on site selling Kevin's book and other active transportation related reads with a percentage of sales donated back to IDEAS.  
For more information:
RECAP
Date:  Wednesday, January 14, 2015
Time: 6pm-8pm
Place:  Canvs 
101 S Garland Ave, Suite 108, Orlando, Florida 32801
Please see attached poster and images
For additional information, please visit http://bookmarkitorlando.com/events/ or Facebook event page https://www.facebook.com/profile.php?id=1561494037398703&ref=70
or contact Kim@bookmarkitorlando.com