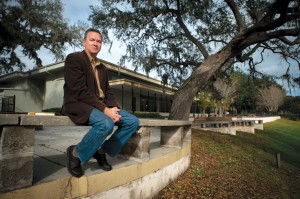 Bob Kealing is the author of three books about "pop culture" figures in Central Florida who have enriched its literary, musical, and business history. Kealing slows down long enough to really study the places he passes on his way to work and play, and through diligent study unearths gems of history hidden in the crumbling buildings all around us.
The first time I met Bob was at a signing at the old Chapters Bookstore on Park Avenue in Winter Park for Kerouac in Florida: Where the Road Ends, about Jack Kerouac's time in Orlando and Tampa. His research for that book led to the creation of the Jack Kerouac House Project of Orlando, where I would later serve as writer-in-residence and compile my first poetry and short-story collection.
Bob hasn't neglected our musical heritage, either; his book Calling Me Home: Gram Parsons and the Roots of Country Rock has led to a resurgence of interest in the rocker and the future preservation of an important historical landmark seminal to Parson's early development.
But the Emmy-winning news reporter for WESH's biggest coup yet may be his historical piece about a ubiquitous plastic storage empire called Tupperware Unsealed: Brownie Wise, Earl Tupper and the Home Party Pioneers. The rights to the book have been purchased by Sony Pictures, to be directed by Tate Taylor and starring Sandra Bullock.
Anyone who knows Bob Kealing will tell you that preserving history is his calling, that his success is due to relentless hard work and diligent research, and that it couldn't happen to a nicer guy.
Here is what Kealing has to say about Sewing Holes:
"In the tradition of Carson McCullers and Rick Bragg, Darlyn Finch Kuhn writes with an acute sense of romanticism, confusion and heartache that is childhood and family life in the American South.  Her flair for detail helps the reader understand why it is such a definitive place."