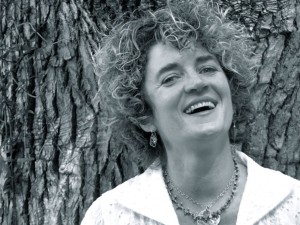 Did you know that there are people who make money writing circuses? I didn't either, until I met Stacy Barton, who is one of those creative geniuses who make the big top, well, BIG. Disney pays her to script their shows, too.
She first came to my attention when she acted in Dickens by Candlelight, and I was an enthralled audience member. Who was this person who played oldyoungmalefemalelivingdead characters so convincingly? And who made me laugh and cry into my tea and cookies?
She's a mother like no other, too. One who makes wry jokes about the hassles of raising her passle of young'uns, then writes heart-melting "mama" poems about them.
Stacy hosts Literature Out Loud, a standout reading series at the Maitland Art Center. Did I mention she writes animated short films?
Sleep much, Stacy?
Here's what the little lady with the big laugh has to say about Sewing Holes:
"Dadgummit – I wasn't sure what 'holes' we were 'sewing' at first, but by the end I was bawling like a baby. Darlyn, true to her adorable southern name, has spun a yarn that caught my heart like a mullet in a cast net. Sewing Holes has that southern way of turning tragedy into story … into love.
~ Stacy Barton
Author of Surviving Nashville: Short Stories and Like Summer Grass