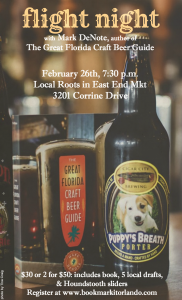 On Thursday, February 26 at 7:30 p.m., join Mark DeNote, author of The Great Florida Craft Beer Guide, for an intimate after-hours event at East End Market's Local Roots Farm Store. Mark DeNote is a the founding editor of FloridaBeerNews.com and freelance craft beer writer well-versed on Florida's growing craft beer industry.
Mark will be serving up insider information on several of Central Florida's craft breweries, along with select Florida flight tastings and sliders provided by East End Market's Houndstooth Sauce Company.
Tickets are $30 single and $50 couple and include a signed copy of The Great Florida Craft Beer Guide, five 5 oz. Florida craft pours, and assorted sliders.  Seating is limited to 25 with registration available online or in-person at either Local Roots or Bookmark It, Inc.
RECAP
Date:  Thursday, February 26, 2015
Time:     7:30-9:30pm
Place:  East End Market: Local Roots Farm Store  
Tickets: $30/per person or $50/couple
For additional information, please visit http://bookmarkitorlando.com/events/ or Facebook event pagehttps://www.facebook.com/events/785606548191240/?ref_dashboard_filter=upcoming
or contact Kim@bookmarkitorlando.com or Steve Head LocalRootsEastEnd@gmail.com.