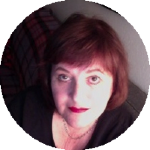 Mary Ann de Stefano of MAD about Words will host a workshop at Winter Park Library on Saturday, February 21st at 10 a.m. You won't want to miss this!
From First to Final Draft: Opening the Door
In On Writing, Stephen King endorses the advice he received from a favorite writing teacher: "Write with the door closed, rewrite with the door open." In this session, you'll learn about the various stages of manuscript development, when to go it alone, and when to share your work in progress. You'll take away ideas for approaching revision solo and tips to help you receive the best kind of support and feedback from an editor, beta readers, or a writing group.
Mary Ann de Stefano named her business MAD about Words as a play on her initials and love for writing. She is a writer, editor, and organizer of writing workshops with 30+ years experience in publishing and writing consulting. Besides working one-to-one with writers developing books, she builds websites, edits The Florida Writer (the official magazine of the Florida Writers Association) and publishes MAD's Monday Muse, a popular weekly e-newsletter. Contact her through her website: MADaboutWords.com
Mary Ann de Stefano email: info@madaboutwords.com website: madaboutwords.com