Winter with the Writers occurs every Thursday in February, 2015, starting on the 5th with Sapphire.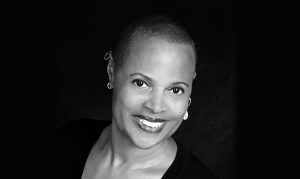 Sapphire will lead a master class at 4 p.m. in the Bush Auditorium. The evening portion of the event, which will include a reading, on-stage interview, and signing, will take place at 7:30 p.m. in the Bush Auditorium.
From the WWW website:
February 5, 2015, 7:30 p.m.
Sapphire: Reading, On-Stage Interview, and Signing
February 5, 2015, 4:00 p.m.
Master Class
Speaker Bio
The New York Times best seller, Push—about an illiterate, brutalized Harlem teenager—won the Book-of-the-Month Club Stephen Crane Award for First Fiction; the Black Caucus of the American Library Association's First Novelist Award; and in Great Britain, the Mind Book of the Year Award. Push was named by The Village Voice as one of the top 25 books of 1996 and by TIMEOUT New York as one of the top 10 books of 1996. Push was also nominated for an NAACP Image Award in the category of Outstanding Literary Work of Fiction. It was made into the Academy Award-winning major motion film, Precious, and the film adaptation received the Academy Award for Best Screenplay and Best Supporting Actress.
In her second novel, The Kid, Sapphire gives voice to Precious's son, telling the electrifying story of Abdul Jones. Left alone by his mother's death to navigate in a world where love and hate sometimes hideously masquerade, forced to confront unspeakable violence, his history, and the dark corners of his own heart, Abdul claws his way toward adulthood. In a generational story that moves with the speed of thought from a Mississippi dirt farm to Harlem in its heyday, from a troubled Catholic orphanage to downtown artists' lofts, The Kid is a soaring tale of body and spirit, rooted in the hungers of flesh and of the soul. Says editor Ann Godoff, "Sapphire never fails to render the hardest material comprehensible by coming from a place of love. In her second novel, she fearlessly explores the young life of an African American boy as he approaches manhood: alone, brutalized and with the soul of an artist."
Sapphire is also the author of two collections of poetry: American Dreams, cited by Publisher's Weekly as, "One of the strongest debut collections of the nineties;" and Black Wings & Blind Angels, of which Poets & Writers declared, "With her soul on the line in each verse, her latest collection retains Sapphire's incendiary power to win hearts and singe minds." Library Journal calls Sapphire's poetry "spiky and uncompromising" and describes her as a "poet of slick-talking, nearly hallucinatory riffs on growing up poor, tough, and black in America."