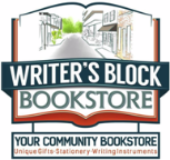 Writers Block Bookstore
124 E. Welbourne Avenue
Winter Park, Florida 32789
407.335.4192
info@writersblockbookstore.com
SATURDAY MARCH 7TH
1:00 – 3:00 PM
GLENDA BAILEY-MERSHON
Young Eve Gates flees the tragedy that besets her childhood friend, and the haunting mystery of her Romani grandmother's demise, for the romantic places she has conjured through her love of reading––only to be called back by her mother's illness. In this honest portrayal of girls growing up in a Southern mill town, three generations of women evoke the power of friendship and family.
SUNDAY MARCH 8TH
1:00-3:00 PM
CATHERINE GILDINER
COMING ASHORE
Catherine Gildiner wrote the New York Times best selling childhood memoir titled Too Close to the Falls. A decade later, she published a sequel, a teenage memoir of life in the 60's called After the Falls. Her newly released third and final memoir called Coming Ashore, which covers her life as a student at Oxford in England, teaching in the burning ghetto in Cleveland, and finally her graduate school years in Toronto.
MONDAY MARCH 23RD
1:30-3:00
MARY ELISE LOVE
JM BARLOU
SHERYL FREDRICK
SATURDAY MARCH 28
12:00-2:00
LINDA ROOKS
THE BUNNY SIDE OF EASTER
On Easter morning, as parents' watch their children scurry about the yard, looking for Easter eggs, many feel disconnected between the legend of the Easter bunny and the real meaning of Easter. The Bunny Side of Easter fills the gap, taking children on an exciting and charming adventure with hints of allegory that point children to the true significance of Easter.
STAYED TUNED FOR APRIL EVENTS:
April 2nd -Book Launch for Cecilia Rodriquez Milanes
"Oye, What I'm Going to Tell You"
April 3rd weekend -Laura van den Berg
"Find Me"
April 13th – Ester Abbott
"Living Far Away"
April 16th – An evening with Carol Frost
"Entwined," "Love and Scorn" and a few winners of the Florida Book Award in 2010
April 17th An evening with David Sedaris at the Bob Carr – 8:00 PM   (We are  the official bookseller for the event.)
April 23rd – Darlyn Finch Kuhn
"Sewing Holes"
April 8th – noon – Brown Bag Book club
April 19th – 4:00 PM – YA Book club
April 22nd – 6:00 PM Bookworm Book Club