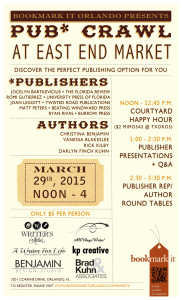 On Sunday, March 29th from 1-4pm Bookmark It invites you to join us for a fun and informative PUB* Crawl (*Publisher) as we serve up a distinguished and varied panel of publishers and authors to answer your book publishing questions.   Learn what publishing style suits you and your book, get an overview of the many options available to our writing community, and meet other authors who have travelled along the same path.
Presenting publishers include:
Matt Peters, Course Director at Full Sail University, self-publishing expert, and Publisher of Beating Windward Publications
Ryan Rivas, Publisher of Burrow Press  and host of Functionally Literate Radio a weekly program on WPRK.org (91.5 radio).
Jocelyn Bartkevicius, Editor of The Florida Review.
Joan Leggitt, Founding Editor of Twisted Road Publications.
Romi Gutierrez, Marketing Manager for University Press of Florida
Following the presentations, crawl from PUB* to PUB* for intimate round-table discussions with publishing representatives and professional writers who will each share their unique publishing experiences: Christina Benjamin (self publishing), Vanessa Blakeslee (independent and traditional press), Rick Kilby (university press), and Darlyn Finch Kuhn (independent press).
(*Publisher)
Additionally, to help you take those first steps toward publishing, our terrific event sponsors (publicists, graphic designers, workshop facilitators, and editors) will be available, too.
A nominal $5 fee includes a handout listing contact information for local publishing professionals, presenter notes, and a self-publishing guide.  An assortment of titles by represented publishers and authors will also be available for purchase.
AND although this isn't your average pub-crawl – don't worry!  Txokos will be serving  $2 mimosas before the event. So, join us in the courtyard from noon-12:45 for a happy hour to get those creative juices flowing!
Event information recap:
Date:                      Sunday, March 29
Location:              East End Market – Upstairs in APEX meeting hall
2301 Corrine Drive, Orlando, FL 32803
Time:                      1pm-4pm (with casual happy hour prior in courtyard from 12-12:45pm)
Cost:                      $5/pp for event attendance and take-home information packet
See below for more information re: our participating publishers: (link to online)
Beating Windward Publications is an independent publisher of novels, short story collections and non-fiction.
Burrow Press is a non-profit, indie publisher literary fiction and creative nonfiction in print and online.  They, along with the children's literacy program Page15,  are operate under the 501(3)c Urban Think Foundation.
The Florida Review is the national literary journal published twice per year at University of Central Florida with the artistic mission to publish the best, most eclectic fiction, literary nonfiction, poetry, and graphic narrative by new, emerging, and established writers.
Twisted Road Publications actively seeks the voices of marginalized groups and individuals—partial to the writer who possesses a gift for compassionate, sharp-eyed truth telling, rendering fully formed characters and stories that get under the skin, but are under-represented by corporate marketing.
As the official publisher for the State University System, the University Press of Florida (UPF) publishes books on Florida history, landscape, Middle Eastern studies, Latin American studies, dance, literature, anthropology and more.
For additional information on event or for author information, please contact Kim@bookmarkitorlando.com
http://bookmarkitorlando.com/events/
https://www.facebook.com/events/601256096678600/