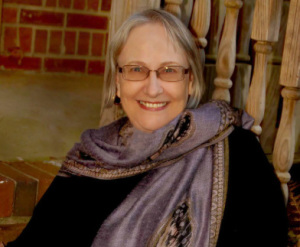 I first met Glenda Bailey-Mershon at a quarterly  novel-writing retreat in Florida's panhandle hosted by the inimitable Connie May Fowler. In addition to watching her book, Eve's Garden, develop into something really fine, Glenda and I shared other notable memories during those two years, including:
Watching it rain inside our rambling rented seaside house as we critiqued each other's novels, while a hurricane swept over us.
Feeling that house sway in the wind as we emptied the pots, pans, and bowls we'd used to catch said rain, between critiques.
Acknowledging the presence of Glenda's long-deceased grandmother on the couch in the room with us on the day we critiqued the novel based on her life.
Learning, at her feet, the history of the Romani people, and why the word "gypsy" should be banished from our vocabularies.
When I saw the fine work Twisted Road Publications did in helping Glenda polish her novel, I asked if she minded me submitting mine to the same publisher. With characteristic generosity, she not only agreed it was a good idea, but put a good word in for me with the publisher, Joan Leggitt.
And the rest is history. Because Twisted Road Publications became a client of Brad Kuhn & Associates, LLC, we got to work on Glenda's author collateral and book trailer, as well.
Central Florida book-lovers can hear Glenda when she is the featured reader at Wordier Than Thou at 7 p.m. on Wednesday, April 22 at Stardust Video & Coffee in Winter Park.
Here is the blurb Glenda wrote for Sewing Holes:
"Sewing Holes is a heartrending exploration of how we mend the tears left by absent loved ones, a story deepened and steadied by an accomplished writer who knows that humor provides poignant relief from the wreckage of human passions. We laugh with Darlyn Finch Kuhn at human foibles while recovering from the truths she shows us, about how we are capable of both the deepest betrayal and the most exalted love."
And here's what she posted about it on Goodreads:
"The death of Honey's father rends the family and forces Honey to become the caretaker for her dejected mother, who is at times suicidal. Through a school project of making a memory apron, Honey reflects on the foibles and strengths of her family. When she tries to nudge her mother to move through her grief, Honey makes a grave mistake that drives a wedge between them. How will she cope with losing the love and support of her one remaining parent? This is a heartfelt and often humorous view of love and loss and learning to grieve. The language sparkles and the characters are unforgettable."
Thank you so much, Glenda!