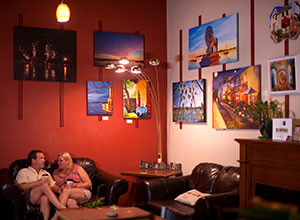 National Poetry Month Kick-off: Saint Augustine Speaks Poetry Reading
Sun March 29, 2015 3:00 to 5 PM City Coffee Company
A poetry reading to kick-off National Poetry Month (April) will be held on Sunday March 29 from 3:00 to 5 PM at City Coffee Company, located at 1280 N Ponce De Leon Blvd (near the Village Inn). National Poetry Month is a month-long, national celebration in April of poetry established by the Academy of American Poets. The concept is to widen the attention of individuals and the media—to the art of poetry, to living poets, to our complex poetic heritage, and to poetry books and journals of wide aesthetic range and concern. The community is invited to share a poem or just soak in the Saint Augustine poetry scene. The reading will be held "renga style" with no emcee or sign-up sheet and will end when all presenters have had an opportunity to share. For more info find the group on Facebook, or www.bodor.org.