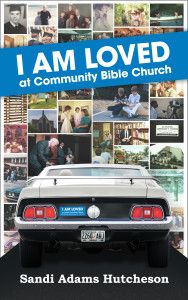 Have you ever met a stranger halfway around the world, felt an immediate connection, and then realized you grew up in the same small corner of the globe?
No, this isn't the start of a bad romance novel; it's the story of how I introduced myself to Sandi Adams Hutcheson on a street corner outside the gates of Trinity College in Dublin, where we'd both traveled to study with Spalding University's MFA program.
Her accent told me she was from the American South, and we soon narrowed it down to a childhood in Atlanta, Georgia for her and Jacksonville, Florida for me. She was a PK (preacher's kid.) I was a DK (deacon's kid.) In other words, we could have been cousins.
Now I live in Orlando, and she lives in St. Augustine. We share a good friend (and fellow writer), Renee Anduze, who was also on the trip.
Brad and I have had the privilege of producing book trailer videos for Sandi's two books: Looks Great Naked and I AM LOVED at Community Bible Church. She's launching the latter, at the megachurch in Atlanta that her mom and dad started and her brother still shepherds, on Saturday, March 28th.  (If you watch the second video and don't fall in love with Granny Berry, well … there's no hope for you.)
Here's what Sandi has to say about Sewing Holes:
"As someone who grew up in the Bible belt, I'm often amused by how writers depict religion in the South. Sewing Holes is about as accurate as a novel can be in showing how a deeply religious Southern girl thinks and feels. With great tenderness, it shows that the fabric of life is stitched together with love, heartache, memory and forgiveness.   A good novel polishes the mirror of a reader's self-awareness. This is a really good novel."
~ Sandi Hutcheson
Author of Looks Great Naked and I AM LOVED at Community Bible Church