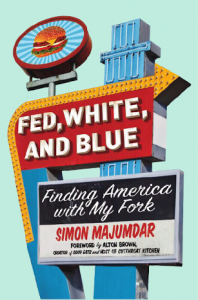 Expanding on our mission to create informative and fun opportunities to connect Central Florida's readers to authors, Bookmark It is excited to announce a May line-up that brings 3 nationally renown industry leaders and authors to the stage in East End Market's APEX meeting hall.   Seating for each is FREE but limited.  More information and registration for each event is available at www.bookmarkitorlando.com/events or via https://www.eastendmkt.com/events-classes/
First up on Thursday, May 7 at 7pm, Bookmark It welcomes popular broadcaster, author, and Food Network personality Simon Majumdar, as he travels the country on his grass-roots campaign to "Go Everywhere. Eat Everything."  His latest book,  Fed, White and Blue , (Hudson Street Press -an imprint of Penguin Books; $25.95; April 7, 2015), catalogs his journey to American citizenship with humor, history, and of course, food.  Simon is a well-recognized personality on the Food Network, regularly appearing on shows such as Iron Chef America, The Next Iron Chef, Cutthroat Kitchen and Beat Bobby Flay.  He has also recently appeared as an expert commentator of National Geographic's major new series "Eat: The Story of Food."  His legion of fans stretches worldwide and his previous titles "Eating for Britain" and "Eat my Globe" continue to provide humorous insight into society's ever-changing relationship to food.
The following week on Saturday, May 15 at 7pm, Gene Baur, president and co-founder of Farm Sanctuary and author of recently released Living the Farm Sanctuary Life (Rodale Books; $29.99; April 7, 2015) will be delivering his impassioned message to Central Florida.   Gene has been hailed as "the conscience of the food movement" by Time magazine and since the mid-1980s, has traveled extensively, campaigning to raise awareness about the abuses of industrialized factory farming and our system of cheap food production.  Gene began his activist career selling veggie hotdogs out of a VW van at Grateful Dead concerts to fund farm animal rescues. Today, he serves as president of Farm Sanctuary, the nation's leading farm animal protection organization, with shelters in New York and California. His new book delivers a vegan and animal-friendly lifestyle guide, which covers the primary tenets of Farm Sanctuary life–such as connecting with nature wherever you are, reducing stress, and working to help the environment–and offers simple ways to incorporate these principles into your life.  He recently appeared on The Daily Show with Jon Stewart and is a nationally sought out speaker on this topic. His visit is co-sponsored by Vegetarians of Central Florida and Animal Rights Foundation of Florida.
Finally, last but not least,  on Tuesday, May 19 at 7pm Bookmark It is honored to host Shannon Miller, former Olympic gymnast, tireless women and children's health advocate (Shannon Miller Lifestyle and Foundation) and now author as she tours the country with the release of her memoir It's Not About Perfect: Competing for My Country and Fighting for My Life (St. Martin's Press; $25.99; April 21, 2015).   Shannon's story is one of grit, perseverance, and faith.  In it Miller tells the unlikely story of a shy girl from Oklahoma becoming an international phenomenon, and takes us behind the scenes of some of the most memorable moments in U.S. Olympic history.  She then tackles an even greater challenge, her health, when in 2011—at 33 years old and a new mother—Miller was diagnosed with a malignant germ cell tumor, a rare form of ovarian cancer.   Her story of trial, triumph and life after cancer reminds us all that its life's bumps and bruises that reveal our character.   Doors open for Shannon's event at 6:30 prior to the presentation for meet n' greet and book sales opportunities.
Event information:
Date:                      Thursday, May 7, 2015
SIMON MAJUMDAR 'Fed, White and Blue'
Saturday, May 15, 2015
GENE BAUR         'Living the Farm Sanctuary Life'
Tuesday, May 19, 2015
SHANNON MILLER, 'It's Not About Perfect'
Location:               East End Market – Upstairs in APEX meeting hall
2301 Corrine Drive, Orlando, FL 32803
Time:                      7pm -9pm
Cost:                      FREE, author titles available for purchase
Q&A plus book signing to follow each event.