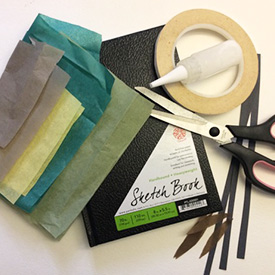 Join Lezlie Laws and LifeArt Studio as they present Connect With Your Inner Artist: Create an Art Cover for Your Journal
May 2, 2015 — 1 to 5 pm
$65
Do you keep a journal? Wouldn't it be fun to cover your next journal with a garden of color? In this workshop, led by Orlando artist Ramona Louise, we'll get crazy with glue, paint, papers, pens and natural elements to create our own personal book-cover art. It's four hours of color-splash joy! Bring your creative spirit — we'll provide everything else you need to layer simple materials into the beginnings of artful dreams.
Location: Walden Community School, 4595 Howell Branch Road, Winter Park, FL
Advance registration is required to reserve your space. Learn more.