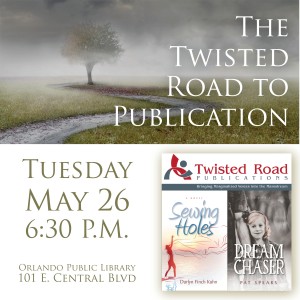 We are really looking forward to seeing you tonight!
Join the owner of Twisted Road Publications, Joan Leggitt, and authors Pat Spears and Darlyn Finch Kuhn as they share their stories of the long and winding road to publication – a mix of persistent dreaming, cautionary tales, and a belief in the power of community.  The authors will also read from their novels, Dream Chaser (Spears) and Sewing Holes (Kuhn).  Learn how you can submit your work to the Southern Gothic Revival Short Fiction Contest, to be judged by Dorothy Allison.  Joan would also love to hear what you're working on.
Tuesday, May 26th, 6:30 p.m., Orlando Public Library, 101 E. Central Blvd., Downtown Orlando.  Please come, and bring a friend!