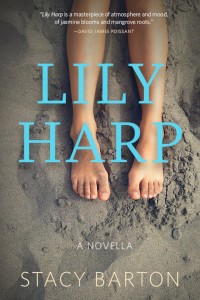 Tonight, join Stacy Barton in celebrating the launch of her new, beautifully-crafted novella and short story collection: Lily Harp.
The year is 1976. The scene composed of clapboard marinas, bays, mangroves, stilt houses, sea grapes, and barrier islands reachable only by boat at the edge of the Florida Gulf.
To set the stage for the reading, Stacy invites you to harken back to this quiet island with music provided by her multi-talented daughter Olivia Barton. A pot-luck spread of homespun 'family gathering' dishes as well as a 'signature libation' inspired by the book's setting will round out the evening's celebration.
The celebration is FREE so come hear the author read from this engaging story filled with poetic language and unforgettable characters.