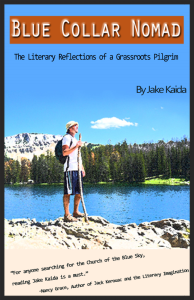 The Orange County Library System is hosting talks by Jake Kaida, author of Blue Collar Nomad, a collection of travel essays.  He lived nomadically from 1998  to 2010, and traveled sustainably by working as a natural chef, organic gardener, landscape artist, writing instructor, and mentor to at-risk youth.
In this talk, Jake will share his experiences with sustainable travel, working with local communities, and engaging the transformational power of place. A book sale and signing will follow.
There will be two sessions:
Wednesday, June 3, 7pm, at the OCLS Alafaya Branch
12000 E. Colonial Dr.
Orlando, FL 32826
Sunday, June 7, 2pm, at the OCLS West Oaks Branch
1821 E. Silver Star Rd.
Ocoee, FL 34761

For more information, call the library at (407)-835-7323.