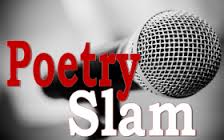 There Will Be Verse (TWBV) is a monthly poetry slam featuring the best performance poets Central Florida has to offer. However, TWBV aims to provide an experience beyond poetry slam by including monthly features, entire audience judging, and special opportunities for the Audience Choice and Host's Choice poets. If you are a performance poet looking for an opportunity, or if you just enjoy listening to and enjoying the talent, drop by Stardust Video & Coffee on the last Tuesday of the month.
When: June 30th (or the last Tuesday of each month.)
Time: Sign-ups begin at 8:00 pm, and the Slam begins at 8:30.
Where: Stardust Video & Coffee (1842 Winter Park Road, Orlando, FL, 32803)
Visit therewillbewords.com/poetryslam for more information on the competition and prizes.