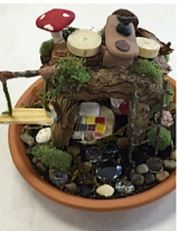 Bookmark It and ArtReach Orlando are joining forces for this magical morning of fantasy land creation. Bring your favorite fairies or figurines to create a custom abode to take home on August 5th.
ArtReach supports projects that foster creativity and hope, develop self-esteem, and offer children a platform to remember, reflect, re-vision, and rejoice. By fostering creativity they are encouraging and empowering children to imagine the positive changes they wish to see and be in their own lives, their communities, and in the world.
Meet them at the picnic tables at East End Market. Space is limited, so please be sure to register using the link below! To keep this event accessible to the community and to cover the cost of materials, donations will be accepted at the door.
When: Wednesday, August 5th, 10am
Where: Picnic tables at East End Market
3201 Corrine Drive Orlando, Florida 32803
Cost: Suggested 5$ donation
Register: here