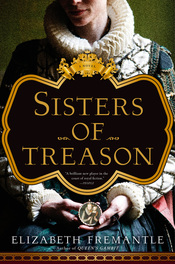 Two young girls tread dangerously close to the throne after their sister, the deposed queen, Lady Jane Grey, is executed.Neither sister is well suited to a dangerous life at court.  Flirtatious Lady Catherine, thought to be the true heir, cannot control her compulsion to love and be loved, and clever Lady Mary has a crooked spine and a tiny stature when physical attributes are thought to reflect moral character.  For either girl to marry without royal permission would be a potentially fatal political act, perceived as a treasonous grab for the throne.
It is the royal portrait painter, Levina Teerlinc, who helps the girls survive these troubled times. She becomes their mentor and confidante; with her painter's observation she is able to see more at court than the sisters, who are watched closely.  But when the hot-headed Elizabeth inherits the crown, life at court becomes increasingly treacherous for the Grey sisters.  Ultimately each young woman must decide how far she dares to go to defy her Queen and risk her life for love.
When: Monday, July 20th, from 6:30 PM to 8:00 PM
Where: Hiawassee Branch– Meeting Room
7391 W. Colonial Dr.
Orlando, FL 32818
Presenter: Ashley T.
For more information, contact the library at 407.835.7323.