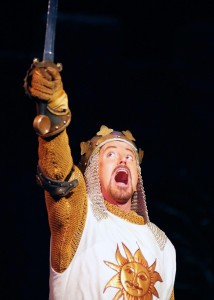 Orlando Shakespeare Theater in Partnership with UCF is pleased to present Monty Python's Spamalot from September 9 – October 11, 2015 in the Margeson Theater. Directed by Artistic Director Jim Helsinger with musical direction by Steve MacKinnon and choreography by Billy Sprague, Jr., the production will headline the Theater's upcoming 27th Season Signature Series. Tickets to Monty Python's SPAMALOT are available now by calling (407) 447-1700 ext. 1, visiting www.orlandoshakes.org, or in person at the John and Rita Lowndes Shakespeare Center (812 East Rollins Street).
Based on the classic film Monty Python and The Holy Grail, this saucy musical parody tells the legendary tale of King Arthur and the Knights of the Round Table. On a quest for the Holy Grail, the Knights encounter flying cows, killer rabbits, and taunting Frenchmen while performing heart-stopping musical numbers. Winner of three Tony Awards including "Best Musical", Monty Python's SPAMALOT takes silliness to a whole new level.
"Following the incredible success of last season's Les Misérables, we're excited to present our audiences with something completely different this year," said SPAMALOT Director Jim Helsinger. "Davis Gaines and Michael Hunsaker will reunite on our stage for this hilarious musical, joined by a cast of Broadway sensations and local stars. Be prepared to laugh and sing along on this wild adventure!"
Monty Python's SPAMALOT is presented through the support of Orlando Shakespeare Theater's 27th Season Producing Partners: Alan & Kelly Ginsburg, Ken & Trisha Margeson, John & Rita Lowndes, Albert & Lisa Prast, Kay Ustler, Jim & Diane Barnes, Suzanne Gilbert, Dan Dantin & Frank Santos, Jim & Valerie Shapiro, Bryce West, Gordon & Susan Arkin, Steve Goldman & Melanie Love, Marilyn Goldman, Jack Hanson & Grant Gribble, Francille MacFarland, Lester & Sonia Mandell, Simon & Ellen Snyder, A. Brian Phillips, Jack Lord & Adam Hunter, and Jim & Alexis Pugh. Monty Python's SPAMALOT is sponsored by Massey Services, UCF College of Arts and Humanities, and the UCF Office of the President.
Orlando Shakespeare Theater is supported by United Arts of Central Florida, host of www.power2give.org/centralflorida, and the collaborative Campaign for the Arts. Orlando Shakespeare Theater is also sponsored in part by the State of Florida, Department of State, Division of Cultural Affairs, and the Florida Council on Arts and Culture.
Please contact Public Relations Coordinator Melissa Landy at (407) 447-1700 ext. 250 or melissal@orlandoshakes.org for further details or to arrange for individual interviews.