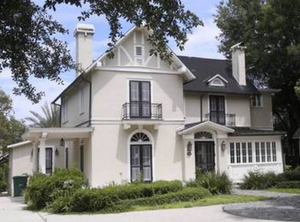 SAVED, MOVED, RECONNECTED, RESTORED!
After almost two years, Winter Park's historic Capen-Showalter House has been saved, moved, reconnected, and restored for a new generation of guests.
The staff and board of the Albin Polasek Museum & Sculpture Gardens are excited to share this historic building and a renewed visitor experience with the public. Our first Celebrate Capen Public Open House is scheduled for Sunday, October 11, from 1 to 4 p.m. The community is invited to step over the threshold of this restored home and explore our collection of paintings, sculpture, and unique historic features. The original 1885 floors are polished to perfection, patched and repaired with historic materials. Take a look inside the bathroom to see behind the walls and view the original exterior siding and Old-Florida Pine posts. The rear doors open onto a multi-level brick patio, serene walkways and gardens, and a newly enlarged dock on the shores of Lake Osceola.
The companies that helped us get this project completed with their generous in-kind assistance will be on-hand to show their work to the public. Architectural historian and Project Director Christine Madrid French will unveil the "History Hall," an interpretive area describing the history of the home and the process of moving and restoring this magnificent home. More than $1 million was raised from private sources, foundations, the Orange County Arts & Cultural Affairs Office, and the public to complete the project.
Because of your help and support, this 130-year-old Victorian residence can now serve as a premiere space for art, history and cultural programming, exhibitions, community meetings and life's celebrations.
We are excited to announce that Orange County Arts & Cultural Affairs has awarded the Polasek Museum a Cultural Facilities Matching Grant of $107,000 to complete the project. This grant will fund a new "green" parking area that permits groundwater absorption, and the continuation of our eye-catching red concrete entry wall along Osceola Avenue in front of the Capen-Showalter House lot. The grant will also fund a series of repairs to Albin Polasek's historic home and studio, including replacement of the cracked concrete paving in the Emily Courtyard at the main entry to Polasek's home and new energy-efficient LED lights to illuminate our permanent exhibits.
Executive Director Debbie Komanski:
"Our big moment has arrived! We are eagerly anticipating the beginning of a new era at the Polasek Museum with the addition of the historic Capen-Showalter House. People from around the world helped save this house and revealed to us just how much the community cares for its history and culture. "
Project Director, Christine Madrid French:
"This landmark project in Winter Park set a new bar for heritage conservation in the U.S. Moving the 200-ton house across the water to save it from demolition was an unbelievable feat. The widespread community support shows that we can accomplish extraordinary things and encourage growth while preserving significant buildings for the future."
Valet Parking on-site (first come, first served), $5 per vehicle or park off-site in downtown Winter Park lots and stroll to the museum. Drop-off area available and bike-racks on site.
Free Admission to Museum, Gardens, and Capen-Showalter House; Donations gratefully accepted.