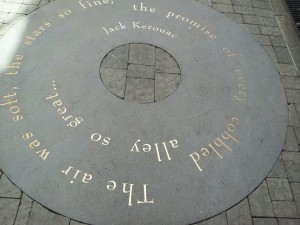 The Kerouac Project of Orlando, in conjunction with United Arts, is proud to present Jazz and Photos: Exploring the Beats.
Join us for a festive opening reception on Friday, August 14th from 7:30pm to 10:00pm at Credo in College Park. We will be unveiling a collection of black-and-white photos by Chris Felver and Mellon Tytell, depicting some of Kerouac's contemporaries, various beat personalities through the years.
Strange Angels, featuring Mark Piszczek, Doug Matthews, and Ed Krout will be playing original jazz throughout the evening. At 8:00, Keith Bollum of Bellamy Road will be giving us an introductory presentation regarding the photographs. There is a $5 suggested door donation, and beer and wine will be available.
The photos will stay on exhibit at Credo through mid-September.
The Kerouac Project of Orlando is supported by United Arts of Central Florida, host of power2give.org/centralflorida and the collaborative Campaign for the Arts.