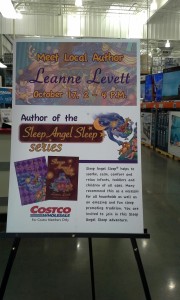 Costco Hosts Local Children's Book Author Leanne Levett
Meet the Author Booking Signing on Saturday, October 17th, 2015 from 2-4 PM
Leanne Levett, local children's book author, will be autographing copies of her two books, "Sleep Angel Sleep" – for Nightime and Naptime sleep – on Saturday, October 17 from 2-4 pm at Costco's "Meet the Author" Event located at the South Orlando warehouse, 2101 Waterbridge Blvd., Orlando, FL 32737-9283 – at cross street with 441/Orange Blossom Trail (OBT) and phone 407-393-1003. 
We hope we can get as much media coverage as possible. The Costco poster is attached along with the press release and the covers of her two books.  These books and audio have helped so many children and even adults to find restful sleep.
Leanne has received letters, calls, voice mail, and emails from parents, grandparents, caregivers, teachers, daycare specialists, nursery school and kindergarten teachers, nannies, First Responders, emergency room staff, doctors, nurses, psychotherapists, child development specialists, psychologists, social workers, and trauma workers.
The emails and letters have expressed their gratitude for how effectively her books and audio have worked to make children fall asleep. Some of these children have experienced domestic violence, child abuse, incest, rape, war zone trauma, violence in their neighborhoods, and other children have ADD, ADHD, or just have sleep difficulties. 
Please stop by to say Hello and purchase a book or two. Leanne is looking forward to seeing you there!
Leanne's books "Sleep Angel Sleep", both Naptime and Night versions, are published by Mascot Books, of Herndon, Virginia, founded and owned by publisher Naren Aryal.  www.MascotBooks.com
"My publisher, Naren Aryal of Mascot Books, has been very supportive and has done an excellent job with distribution across the country and around the globe.  The response has been extremely positive!" Leanne extolled.
The idea for the Sleep Angel Sleep, Night and Naptime books came to her when she noticed that many children experience severe sleep struggles. 
Leanne Levett, who actively supports many charities and community projects, had the idea to help children fall asleep by reciting a poem inviting Sleep Angel dreams and adventures. 
By creating these poems for Night and Naptime and then adding calming, breathing techniques, the recorded audios transitioned into beautiful books with the guidance of Naren Aryal and the entire Mascot Books Team.
Leanne's soothing voice and reassuring words provided in the books and audio CDs can be purchased from Mascot Books at www.MascotBooks.com
The Naptime and Night audio apps are now available through the Apple iTunes App Store and Google App PlayStore for all Apple and Android devices.  The books and audios are utilized by children of all ages and adults as well, to gain restorative sleep.
"The letters, phone messages, and emails received from parents, caregivers, psychotherapists, first responders, nurses, doctors, and educators, have confirmed that Sleep Angel Sleep, Naptime and Night books, are of great assistance to so many people, which is very gratifying," author Leanne Levett added.
Leanne is available for personal appearances and speeches for events including parenting groups, therapist seminars, First Responder and health care training, as well as educational and health forums and conferences.
Please contact media specialist Linnda Durre' to schedule individual interviews, appearances, and media bookings for Leanne Levett, who is available for TV, radio, print, and Internet interviews in person and by telephone. Linnda Durre' can be reached by cell phone 818-271-0204 and by email Linnda.Durre@gmail.com