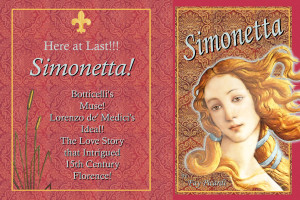 Melbourne, Florida artist Cindy Michaud wants the Scribblers to know:
"Simonetta (for those not in the know of Italian Renaissance gossip) is the woman who inspired Bottecelli's depiction of Venus, the Goddess of Love, commissioned (in the 1480s) by the d'Medici family.  The painting is fraught with symbols and secret messages, but very little is known about the woman whose face has become our icon of beauty and grace.
Enter Fay Picardi, Melbourne, FL author, poet and Italian aficionado.  Simonetta's story dwelt in Fay's imagination for as long as I have known her. Every summer she and her husband would spend months in Italy and Fay would use the woman's story as an excuse to trek all over digging up bits of data.  Pretty soon it became the reason to travel, trek and research.  Years in the works, Simonetta is now her latest baby, her newest novel, and our excuse to celebrate!
Join us for the launch on November 6 during First Friday in EGAD from 5:30 until 7:30 at the Derek Gores Gallery, 587 W. Eau Gallie Blvd, #101, Melbourne.  After you peruse the art (yes!) and settle in with some vino, enjoy hearing Fay read from her work at about 6:30 pm.  You'll want the book…and she will have copies of her previous books of poetry for sale (and signing) as well.
But WAIT, THERE'S MORE?!  Of course there is more….Fay challenged members of her creative group to execute their own versions of the Goddess of Love aka Venus aka Simonetta, and they will be on display for your curious pleasure.
Books are also available from Amazon.com at 12.95 plus shipping, unless you are prime.  For a signed copy by mail you can contact the author at SimonettaV@earthlink.net, it will only be $10.00 but there is a $3.00 flat rate shipping charge.  Follow along with Fay as she prepares to launch her latest round of readings by "liking" the FB site: facebook.com/thesimonettastory.
Fay would love to discuss her work at your book club and is available by contacting her at faypic@earthlink.net.  Join us in congratulating Fay for seeing her dream to completion…and entertaining us along the way."