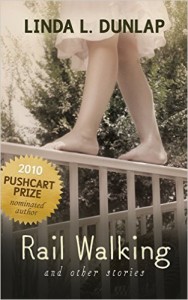 Linda Dunlap (a 2010 Pushcart Prize-nominated author) says she's an overnight sensation thirty years in the making.  Well, Linda, it's been worth the wait!
Recently, Twisted Road Publications announced that Linda's short story would appear in the upcoming Southern Gothic anthology.  Now she's gotten word that her short story, "A.J. and Crazy Woman," won first place in a short story contest at New Southerner Magazine.
But the best news of all is that the ebook version of Linda's short story collection, Rail Walking and Other Stories, is now available at Amazon.com.  Check it out!