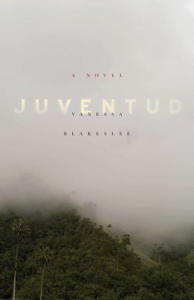 Look what else is happening at Bookmark It:
Fri Nov 13th 6.00pm – 9.00pm
Bookmark It at East End Market
, 
3201 Corrine Dr, Orlando, FL 32803, USA
"In the bristling, beautiful prose that won her an IPPY Gold Medal for her short story collection Train Shots, Vanessa Blakeslee's Juventud explores the idealism of youth, the complexities of a ravaged country, and the stories we tell ourselves in order to survive.
Bookmark It invites you to join Vanessa Blakeslee in East End Market's beautiful courtyard on November 13th from 6-9pm, as we celebrate her Orlando launch of Juventud.
Already garnering praise from Publisher's Weekly, Washington Independant Review of Books and Library Journal, Juventud has captured the attention of literary community. Blakeslee is currently on book tour throughout the fall and will be traveling to the Miami Book Fair following her Bookmark It event.
"