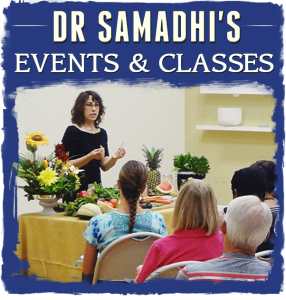 Kim Britt of Bookmark It writes:
Join us from 6-8pm on Wednesday, November 11, 2015 to welcome Dr. Samadhi Artemisa, PhD, AP and celebrate the launch of her new book Healthy Eating, Healthy Living, Healthy You.
Dr. Samadhi is an Acupuncture Physician with her PhD in Holistic Nutrition. She provides acupuncture, iridology and nutrition sessions at InJoyHealthcare in Orlando, Florida. An educational speaker and writer on healthy living, Her articles have been published since 2010 in Natural Awakenings Magazine, We Care Magazine, Velocity Magazine and she has had a monthly column in "A Better You" of the Orlando Sentinel for almost 3 years. Through her writing and teaching she inspires thousands of people to take charge of their health with good lifestyle habits and proper nutrition.
Healthy Eating, Healthy Living, Healthy YOU is a compilation of some of her published articles from the last few years covering topics such as cleansing, weight loss, local food, natural remedies, how to select and store fruits and vegetables and gluten-free, vegan, vegetarian and raw recipes from her kitchen. One of her hobbies is photography and this book has over 90 of her color photographs of nature and food, guaranteed to make you want to do something healthy!