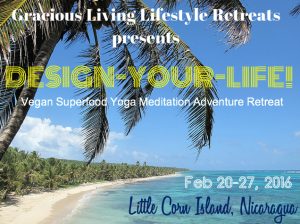 Practice yoga with Lezlie in Nicaragua!
Gracious Living Lifestyle Retreats presents 
DESIGN-YOUR-LIFE!
Vegan Superfood Yoga Meditation Adventure Retreat
February 20-27, 2016    Little Corn Island, Nicaragua
Join Lezlie Laws of LifeArt Studio as she facilitates creativity coaching at this signature Gracious Living Lifestyle Yoga Retreat on Little Corn Island, Nicaragua.  Practice yoga every day; deepen meditation practice;  eat delicious and nutritious food prepared to revitalize your mind, body, and spirit.   And every day, Lezlie will introduce strategies for constructing the life (and the art) you were born to create.
Grace Van Berkum, founder of Gracious Living Lifestyle Retreats, will teach yoga and show participants ways enjoy life, create health, and gain focus and clarity on living vibrantly and productively.
All of this in the stunningly beautiful Little Corn Island with accommodations at the Little Corn Island Hotel.
Find all the details here. http://www.gracevanberkum.com/gracious-living-event/nicaragua-feb-2016-gracious-living-lifestyle-design-your-life-superfood-yoga-retreat/
But don't wait too long to decide:  Grace is offering a 20% holiday discount for the next ten days.  So check your list.  Have you been naughty or nice?