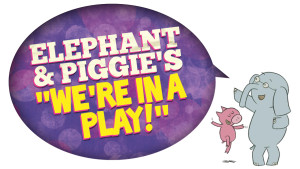 Orlando Shakespeare Theater in Partnership with UCF presents the Central Florida Premiere of Elephant and Piggie's "We are in a Play!", script and lyrics written by Mo Willems and music by Deborah Wicks La Puma. Based on the popular book series Elephant and Piggie by Mo Willems, the Children's Series musical production runs from April 7 – May 7, 2016 in the Margeson Theater. Tickets ($9 – $15) can be purchased by calling (407) 447-1700 ext. 1, online at www.orlandoshakes.org, or in person at the John and Rita Lowndes Shakespeare Center (812 E. Rollins St.).
Who are Elephant and Piggie? Only the best of friends! In this toe-tapping musical, best friends Elephant Gerald and Piggie sing and dance their way through pachydermal peril and swiney suspense as they face fundamental questions like, what do you wear to a fancy pool party? Should you share your ice cream? And how can two friends play with one toy? Backed by nutty backup singers The Squirrelles, the inseparable duo get the audience involved in the fun as well.
"Watching the joy on your child's face when they see their favorite fictional characters come to life on stage is a moment every parent should experience," said Elephant and Piggie Director Melissa Mason Braillard. "In keeping with the spirit of the books, Orlando Shakes production of Elephant and Piggie will explore everyday dilemmas like sharing, friendship, and problem solving in an engaging way."
Orlando Shakes production of Elephant and Piggie's "We are in a Play!" will be led by a Female creative leadership team.
Director Melissa Mason Braillard has appeared in several Orlando Shakes productions including The Taming of the Shrew,  A Little Night Music, Into the Woods, The Imaginary Invalid, and A Midsummer Night's Dream. She has also appeared in The 25th Annual Putnam County Spelling Bee (Mad Cow Theatre), Shhh! (PB&J Theatre Factory/Garden Theatre), and Sweeney Todd (Orlando Philharmonic Orchestra). Braillard currently serves as Director of Marketing Communications at Orlando Shakespeare Theater.
​ ​
Making her Orlando Shakes debut is Musical Director Megan Tsurumaki. Megan currently serves as the Director of Outreach at the Winter Park Playhouse, where she tours musical theatre productions into Title I elementary schools in the Central Florida region. She formerly served as chair of the Performing Arts Department at Maret School in Washington, DC. and holds a Master of Fine Arts in Musical Theatre from UCF and a Bachelor of Music in Music Education from Appalachian State University.
Choreographer and musical theater triple threat Rachel Arnett will also be joining the creative leadership team.
"I've been watching an interesting conversation unfold about the lack of gender parity within the entertainment industry," said Braillard. "Sitting around the table, I realized that the Elephant and Piggie all female creative team was unique and the first of its kind at Orlando Shakespeare Theater."
The challenge of bringing the simply illustrated books to life on stage has been answered by three other women as well, Set Designer Robbin Watts, Lighting Designer Colleen Doherty,  and Costume Designer Mel Barger. Sound Designer Britt Sandusky will also be joining the artistic team.
Elephant and Piggie's "We are in a Play!" features Jacob Valleroy as Gerald (Elephant) and Corynne Wagener as Piggie. Other casting includes Sarah Summerwell (Squirrelle), Kimmi Johnson (Dog/Squirrelle), and Austin Ryan Hunt (Penguin/Squirrelle).
Elephant and Piggie's "We are in a Play!" is presented by Orlando Magic.
Orlando Shakespeare Theater is supported by United Arts of Central Florida, host of www.power2give.org/centralflorida, and the collaborative Campaign for the Arts. This project is sponsored in part by the Department of State, Division of Cultural Affairs, the Florida Council of Arts and Culture, and the State of Florida.
PERFORMANCE INFORMATION AND RELATED EVENTS
Preview Dates – April 7 and 8 at 10:15 a.m. and noon
Opening Date – April 9 at 2 p.m.
ASL Interpreted – April 30 at 2:00 p.m.
SHAKE OUT THE SILLIES
Join members of the cast for interactive pre-show fun for the whole family. The fun starts 10-15 minutes prior to every performance.
AUTOGRAPH SESSIONS
Stick around after Saturday performances of Elephant and Piggie for a special autograph session with the stars of the show.
ASL SHADOW INTERPRETED PERFORMANCES
Each actor is shadowed by a sign language interpreter, providing a rich theater experience for our patrons who use sign language. This is also an excellent experience for hearing theater patrons as well as they will be able to enjoy a new and different style of theater.
TICKET INFORMATION
PRICING
Monday/Tuesday//Thursday/Friday at 10:15 a.m. and noon – $9
Wednesday at 10:30 a.m. – $9
Saturday at 2 p.m. – $12 children; $15 adults
DISCOUNTS
Group Sales: Up to 20% off groups of 10+