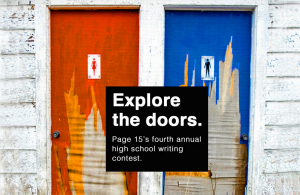 THINK ABOUT GENDER. WRITE US A POEM.
How many high school students can say they're published authors?
Page 15's 4th Annual High School writing contest is under way!
Selected finalists will have real-world publication experience, work with professional editors and published poets, and have original artwork
paired with their poetry.
DEADLINE: FEB. 10th, 2016
Are you ready to explore the doors?
For more information and to learn more about this year's theme, click HERE.