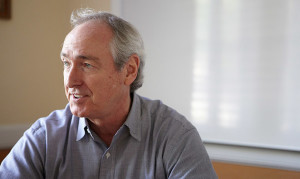 Here is the link to the Winter With the Writers website that will give you all the details about why you won't want to miss the debut of Philip F. Deaver's new book, Forty Martyrs this Thursday, February 11th, at 7:30 p.m. in Bush Auditorium at Rollins College. Not since Sherwood Anderson gave us Winesburg, Ohio, has a master storyteller made us care so much about a small town, its people, and their secrets.
Now I'm going to tell you why I'm not going to miss this book launch.
I learned to read, and began to devour books, when I was three years old. A few years later, when I read Old Yeller, I knew I wanted to be a writer. I started with poetry, took a few journalism classes at the junior college, and got a few items published in the local paper.
Then life got in the way. My father died. I got a "real" job. I got married, had a kid. Before I turned around, I was in my early forties, and no closer to my dream.
That's when I went back to school, at Rollins College's Hamilton Holt school, signed up for a writing class, and met Dr. Deaver.
He taught us the craft, gave us assignments, and enforced deadlines. He led classroom workshops with a firm but gentle hand, and gave up time with his own family one night a month to lead First Fridays, inviting the whole community to read work aloud to one another and share what worked and what needed improvement. He treated everyone with the utmost respect, making each writer feel like the most important person in the room. One evening, in class, he plopped a graded paper I'd turned in the week before onto the table in front of me and laughed, quoting a funny line I'd written in the story. "Submit this to Brushing," he said, and soon after that I held in my hands our college's literary magazine with my very own short story published inside, byline and all. The stuff that dreams are made of.
There have been teachers after that, of course. At Rollins. At Spalding. At writers retreats and workshops. I owe them all more than I can ever repay or express, even in the acknowledgement pages at the front of the books I've written.
But he was the first.  The one who believed I could do it.  The one who made me believe I could be a writer.
So yeah, I'll be there. And I'll watch from afar as he reads, is interviewed, and speaks in his gracious, gentle way to the people lined up to have him sign their copies of his latest, and probably greatest, book. And when he hands me mine, I'll tell him thanks.
For everything.