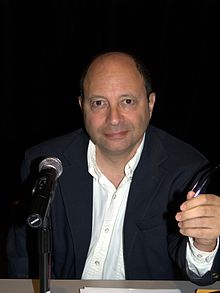 Harold Augenbraum, outgoing Executive Director of the National Book Foundation, will be at the Kerouac House (1418 Clouser Ave, Orlando, FL 32804) on Wednesday, February 24, 2016, at 8:00 p.m. to talk about "Why Books Are a Crazy Business (and thank heaven for that)."
Wikipedia tells us:
Harold Augenbraum (born New York City March 31, 1953) is an American writer, editor, and translator. He is currently Executive Director of the National Book Foundation, and former member of the Board of Trustees of theAsian American Writers Workshop, and former vice chair of the New York Council for the Humanities. Before taking up his current position in November 2004, for fifteen years Augenbraum was Director of The Mercantile Library of New York (now the Center for Fiction), where he established the Center for World Literature, the New York Festival of Mystery, the Clifton Fadiman Medal, and the Proust Society of America. He has been awarded eight grants from the National Endowment for the Humanities, received a Raven Award from the Mystery Writers of America for distinguished service to the mystery field, and coordinated the national celebration of the John Steinbeck Centennial. He is on the advisory board of the literary magazine The Common, based at Amherst College.[1]
Augenbraum has published six books on Latino literature of the United States and translations of Alvar Núñez Cabeza de Vaca's Chronicle of the Narváez Expedition and the Filipino novelist José Rizal's Noli Me Tangere and El filibusterismo for Penguin Classics. He also edited the Collected Poems of Marcel Proust.