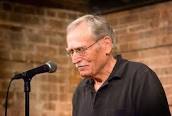 Florida Poet Laureate Peter Meinke will headline an international roster of poetry workshops on Friday April 15 and Saturday April 16 in Orlando.
In addition to Meinke's workshop, the conference will feature presentations on the poetry of France and Scotland. Live bag pipe music will open some sessions. The spring fling provides many opportunities for FSPA members and guests to read their poems at open mike sessions, and the chance to sell their books in the Poetry book store. Registration for both days is a low $25. Everyone that pays that price is eligible to attend the Orlando Poetry Slam team finals on Saturday night, April 16.
The spring fling takes place at the Comfort Suites, 2416 North Orange Avenue, Orlando, FL, 32804, in the trendy Ivanhoe section of the city. Registration forms for the spring fling and hotel registration information is available at www.floridastatepoetsassociation.org.