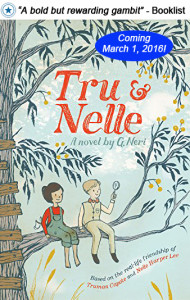 Tampa's Greg Neri will sign copies of Tru and Nelle at Bookmark It on Wednesday, March 9th from 6-8 p.m.
From Neri's website:
As a child, Truman Capote lived for a few years in Monroeville, Alabama. With his fancy New Orleans clothes and eccentric ways, Tru had a hard time making friends in this small town of the Deep South—until he met Nelle Harper Lee. Nelle didn't have many friends either. Her tomboy ways didn't match with people's views on how a young lady should act. But Tru didn't care. Nelle was smart, imaginative and she loved detective books, just like he did. They were two misfits looking for adventure and struck up a friendship that would last for years.
Truman Capote and (Nelle) Harper Lee went on to become two of the most heralded writers of the 20th century. Truman's acclaimed works include Breakfast at Tiffany's, The Grass Harp, A Christmas Memory and In Cold Blood—a crime story that reunited him with Nelle in 1959. Until recently, Nelle had only published one book, but To Kill a Mockingbird has become an enduring classic that won the Pulitzer Prize and sold more than 40 million copies.
Excerpt:
When Truman first spotted Nelle, he thought she was a boy. She was watching him like a cat, perched on a crooked stone wall that separated their rambling wood homes. Barefoot and dressed in overalls with a boyish haircut, Nelle looked to be about his age, but it was hard for Truman to tell — he was trying to avoid her stare by pretending to read his book.
     "Hey, you," she finally said.
     Truman gazed up from the pages. He was sitting quietly on a wicker chair on the side porch of his cousins' house, dressed in a little white sailor suit.
     "Are you . . . talking to me?" he said in a high wispy voice.
     "Come here," she commanded.
     He straightened his little white suit and wandered slowly past the trellises of wisteria vines and japonica flowers until he came upon the stone wall.
     Truman was taken aback. He scrunched up his face; he'd been confused by Nelle's short hair and overalls. "You're a . . . girl?"
     Nelle stared back at him even harder. Truman's high voice, white-blond hair, and sailor outfit had thrown her for a loop too.
     "You're a boy?" she asked, incredulous.
In Tru & Nelle, G. Neri recasts their time together, rearranging events into a single small town mystery worthy of their active imaginations. The result is a flavorful bowl of Southern home-style yarns. Tru & Nelle may be fiction, but it captures the poetic truths of a brief moment between two writers before they became famous, Harper Lee and Truman Capote.