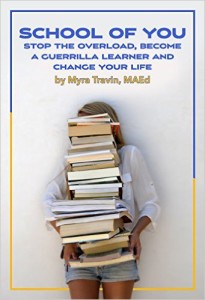 Your Scribbler would like to introduce you to Carolyn Flynn of SoulFire Studios. Here's what she has to say about her author client, Myra Travin:
SoulFire author client Myra Travin splashes into the world  with her just-released book "School of You," a revolutionary talk at South by Southwest Interactive, and a future-shattering op-ed piece in the Austin American-Statesman.
Myra's message is that you must become your own learning curator. "Make no mistake: Learning is survival."
Her book is likely to spark a lively debate in the education industry, where she is known as a futurist in the field of learning design. It's a call to action to a bill of rights for learners, to be part of a new breed: self-directed, agile and free-thinking.
"Don't put your future in the hands of other people, organizations, dogmas or institutions," she says. "Be the curator of your own learning. Your future depends on it."
In her op-ed, "Saying Goodbye to the Future," she takes it one step further: She talks about the loss of worth we feel in a globalized marketplace, and what agile learners can do about it.
http://www.mystatesman.com/news/news/opinion/travin-saying-goodbye-to-the-future/nqffY/
Travin speaks at SXSWedu in the panel "LX Design: Because Learning Design Requires UX" from 12:30 to 1:30 p.m. Tuesday, March 8, at the Austin Convention Center, Room 16AB. More information on her discussion is available at http://schedule.sxswedu.com/events/event_PP57430
And this is what she said about working with me (Carolyn Flynn), for which I extend eternal gratitude:
Others might say they have a vision for what you can become as an author — Carolyn knows how to make your vision real step-by-step. Relentlessly postive, she sees the best in you and has the talent, savvy and experience to get you to the next level.  I have great respect for her willingness to be a guiding light in the future. It takes a person of vision to realize the visions of others. She is that person.
You can check out her book here.
http://www.amazon.in/School-You-Overload-Guerrilla-Learner-ebook/dp/B01CBYFU3O
Carolyn Flynn +  SoulFire Studios
The power of narrative to create your path                IT'S HERE! My TED talk "Tell Better Stories, Live a Better Life"
Marketing communications  |  What's the story you want to tell? What's our story together?
Writing + editing + content development + content curation  |  Find that one true sentence that speaks for who you are
Literary services + writing coaching for authors  |  Tell your story, tell it true
Powered by Carolyn Flynn, winner of the 2014 Rick Bass/Montana Prize for Fiction, author of "Resurrection," published in Fourth Genre
505.301.3101
facebook.com/authorcarolynflynn
abqjournal.com/author/cflynn
Twitter: @carolynflynn