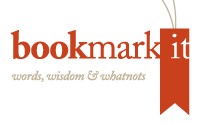 Your Scribbler could not be more thrilled to share Kim Britt's exciting news:
"Over the past 2 years Bookmark It has grown from short story to novella, expanding our collection and services to meet the needs and requests of our authors and customers. And now we offer yet another plot twist…Bookmark It is becoming a series !
We are excited to announce 3 new locations coming over the summer.  On May 1 we will be delivering a specially curated selection of titles into Infusion Tea, 1600 Edgewater Drive, a popular College Park eatery and art co-op.  Then quickly following on June 1 we will be moving across the street in our home-community of Audubon Park into The Lovely, a fun, eclectic shop showcasing local artisans and vintage collectors located at 2906 Corrine Drive.  Finally in late summer (date still tbd) we will be taking up a residency in downtown Orlando's contemporary art space, The Gallery of Avalon Island, a member of the 501(c)3 Downtown Arts District and a long-standing community partner of Bookmark It !  But don't worry, we'll still be found at East End Market inside local farm grocer and craft beer/wine purveyor, Local Roots, where we'll continue to offer our delicious selection of cookbooks.
Each location will be host to any number of literary happenings, from workshops and bookclubs to launch parties and readings, giving us 4 times the opportunities to shine the spotlight on Central Florida's growing literary arts community.
Here are a few examples of what to expect:
A new Author VarieTEA reading series at Infusion Tea which will showcase both local and visiting author's works.
A return of our popular Wine&Sign Fridays at The Lovely, an informal meet n' greet where you can discover new writers and kick off your weekend with a celebratory glass and lively conversation.
Our unique Bookclub with an Author, will be moving to Infusion Tea, where local published writers lead the discussion of titles within their own genre, offering an insider's peak into the writing process.
Little Local's Story Time where your little ones will meet the creators of their soon-to-be-favorite stories.
Add to these a continuing calendar of community-partnered programming with such organizations as Orange County Library System, Urban Think Foundation, area schools and other art-based initiatives and you can look for Bookmark It to be popping up everywhere!
Follow our story as it unfolds, at www.bookmarkitorlando.com, on Facebook https://www.facebook.com/bookmarkitorlando/ and on both Twitter and Instagram at bookmarkit_shop.
Thank you for supporting Independent booksellers and happy reading !
Kim Britt
Owner, Bookmark It, Inc.
3201 Corrine Drive, Suite 201
Orlando, FL 32803