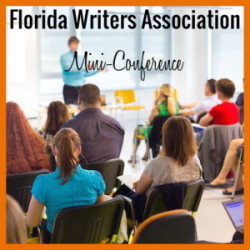 Faculty & Workshops
All-Day Workshops
Morning Workshops
Afternoon Workshops
Faculty who teach half-day workshops are available for 15-minute appointments when not teaching. Appointments are $25. All-day faculty will not be available for appointments.
When
May 7, 2016
Check-in and registration begins at 8:30 AM
Bookstore will be open from 9:00 AM – 4:15 PM
Closing and door prizes from 3:45 PM – 4:00 PM
Location
Clarion Inn
9331 Adamo Drive, Tampa FL 33619
Phone: 813-621-5555 | Website
Registration Fee
Includes continental breakfast, lunch and snacks
$89. Florida Writers Association Member
$109. Non-Member
$54.50 Non-Member Guest *
Online registration closes May 4, 2016. Onsite registration available.
* Available to members only. Bring a guest who isn't a member of FWA, and your friend gets in at half the non-member price. You must include your non-member guest when you register for the mini-conference in order to qualify for this special pricing.