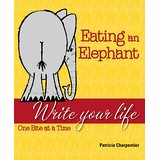 Join Patricia Charpentier, owner of Writing Your Life and author of the multi-award winning book, Eating an Elephant: Write Your Life One Bite at a Time, in a fun, hands-on workshop on May 7th that helps you take steps toward writing the most important story of your life. Click here for details.
Whether you write your life experiences for yourself, your family, or the general public, you want your stories to be interesting and impactful. Explore both popular and unique approaches to writing this all-important story as you discover techniques to breathe life into people, places, and events. Learn how to bring your story down to size, make your project manageable, and deal with the internal critic that never has much good to say about anything.
Walk away from the workshop knowing: · how to painlessly organize your work · how to come up with story ideas · how to bring your writing to life.
No previous writing experience is required, and Patricia's motto is, the only way to do this wrong is to not do it all!