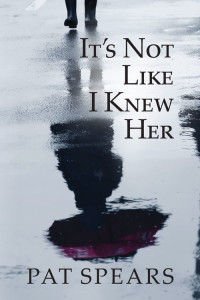 Hatred of the "different" did not begin in Orlando in June 2016.  Love and acceptance was not invented here, either, although it has blossomed in astonishing ways after the tragedy at Pulse.  This story, written by a friend who knows the struggle first-hand, was finished long before the murders, and my hope is that it will keep the conversation about tolerance and inclusion alive for readers across America and the world.
Here is your Scribbler's review:
"It's Not Like I Knew Her is not just a coming-out story; it's a coming-home story. The protagonist, Jodie Taylor, is an outcast, based  not only on her sexual orientation, but also on familial circumstances and poverty issues. Set in rural north Florida and racially charged Selma, Alabama in the turbulent 1950s, the book reveals the ever-present dangers of being "peculiar" in a world ruled by white males. Jodie learns just how fraught with peril life as a lesbian can be, but she also learns the value of self-respect and finds the courage to build a new life for herself while coming to terms with her past.
The novel is of exceptional merit relating to the gay/lesbian/bisexual/transgender experience because it not only reflects the challenges of that experience through the life of Jodie Taylor, but also the closeness of the community through her various love interests, friends, and a particularly compelling mentor couple. These are characters that readers of all stripes – gay, straight, or questioning – can relate to, admire, enjoy, and learn from. They dwell in the mind of readers long after the last page is turned, based on their fragile, flawed, fully-wrought humanity."
Author Pat Spears tells us why she wrote the book.
It's Not Like I Knew Her will release on July 1st. You can order a copy here.